We know all too well how fleeting summer can be. So, why not squeeze in one last trip before the season comes to close? August is a great month to get in one last summer getaway, and we're bringing the heat with our list of the best places to travel in August in the U.S., from big cities to vineyards. Expect a mix popular spots and hidden gems — all of which offer different ways to say sayonara to summer.
1. INDIANAPOLIS
Indianapolis is jam-packed with family fun and has a healthy dose of pleasant late-summer weather. It hosts one of the top state fairs in the country, the Indiana State Fair, which just happens to set up shop for 17 days in August. Devour Indy also makes its way to the city during this month, giving diners two weeks of set menu options for a fixed price. Visitors can taste their way through the city's growing food scene. If you eat too much, rent a bike through the city's accessible and affordable bike-share program and burn off the calories around town and on trails.
August is low season, which means you and travel companions will have more to yourselves, including the world's largest children's museum. Bonus: The Children's Museum of Indianapolis has events every single day in August, from learning how to be an astronaut or experimenting in the kitchen to helping to solve fairytale mysteries.
Our hotel pick in Indianapolis: The Alexander
2. BOSTON
Boston has a ton of events happening throughout August, and temperatures are still radiating summer warmth in the high 70s and low 80s. Plus, most of Boston's educational institutions are still on break until late August, which alleviates a lot of the student traffic throughout the city, though you'll need to mind all of the diehard Major League Baseball fans and pre-season football fiestas.
This shoulder season can also bring great deals for flights and hotels, but beware of any special events that may jack up prices. Top 40 performers, Boston Jazz Fest, Boston Seafood Festival, and Fan Expo Boston, Dine Out Boston (Boston's restaurant week) and the Boston Latino Family Festival at Fenway Park are just a taste of the many events hosted in Boston during August.
Our hotel pick in Boston: Hilton Boston Downtown Faneuil Hall
3. PORTLAND, MAINE
The picturesque views in Portland, Maine, are as beautiful as ever in August, and just so happen to be accompanied by excellent temperatures that rarely dip below the mid-60s at night or spike above 80 degrees during the day. These conditions present the perfect backdrops for exploring the late 18th-century Portland Head Lighthouse, visiting beaches on Peaks Island, and traipsing around the photogenic Fort Williams Park. Celebrate the laid-back, end-of-summer vibes with a stroll along the cobblestone streets of the historic Old Port while you check out the various seafood spots, storefronts, and bars. For some more entertainment, there's a summer concert series and the Maine State Ballet has summer performances, like "A Midsummer Night's Dream," throughout August. This cute town is also full of local visual art, so if that's your thing, it's worth coming during the Art in the Park festival, a family affair that showcases over 150 artists' work for purchase, live music and loads of food.
August is also prime time for food and drink events, including happy hours and lobster lunch crawls.
Our Portland hotel pick: Hyatt Place Portland – Old Port
4. ST. LOUIS
When it comes to events in St. Louis, August is prime time. If you show up during this month, you'll be able to choose from tons of events and festivals that don't occur any other time of year — and most of them are free! A few examples include Blues at the Arch (which presents free live blues every Friday), the Art Hill Film Series (an outdoor film screening series with live music and food) and the Festival of Nations (a multi-cultural festival that features over 40 vendors, as well as an international selection of food, music, and dancing). August is also when the Grub and Groove food and music festival takes place at Francis Park.
Temperatures are slightly high during this time, reaching the upper 80s, though nights cool off and touch the mid-60s. The beginning of August is still part of high season for this destination, but you're likely to find hotel deals toward the end of the month as visitor rates begin to taper off.
Our St. Louis hotel pick: The Cheshire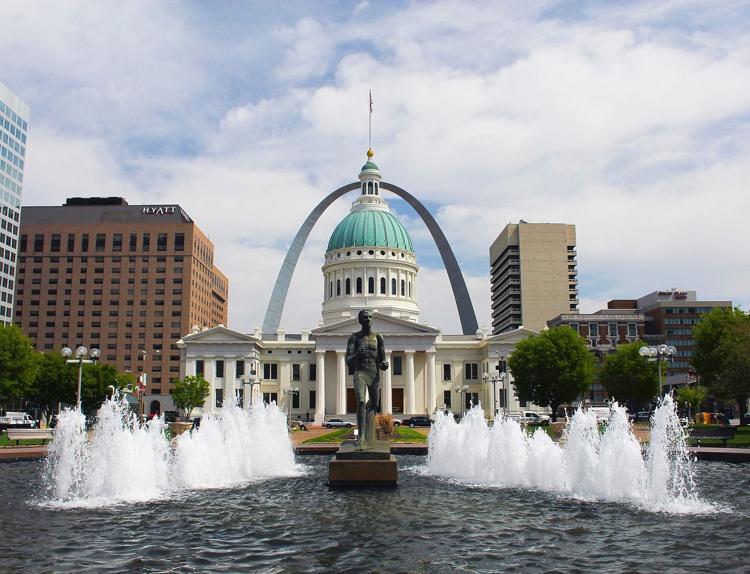 5. BEAVER CREEK, COLO.
Bypass the 90-degree August temperatures in Denver and head straight for the mountain village of Beaver Creek, Colo. This beautiful spot is about two hours from Denver and just 15 minutes from Vail Mountain. Well-known by Colorado locals, Beaver Creek remains a hidden gem for tourists. The late summer month of August sees temperatures in the mid-to-high 70s during the day, and the 40s at night. The weather conditions allow for fun outdoor activities, like scenic chairlift rides, golfing, live music and food festivals, and four-by-four tours, all day. There are also over 62 miles of hiking trails, 50 miles of biking trails and rafting opportunities to really get out and connect with nature while it's still warm out.
At night, cozy up to the fire and cook up some s'mores or bundle up and stargaze the clear mountain skies. This transitional period is great for soaking in the last bits of summer while gearing up for the cooler fall and winter weather.
Our Beaver Creek hotel pick: Park Hyatt Beaver Creek
6. San Luis Obispo, Calif.
If your idea of a fun vacation involves excellent food and delicious wine, San Luis Obispo, located about halfway between Los Angeles and San Francisco, is a serious late-summer winner. In fact, it's the third-largest wine region in California, with strong reds like syrah and pinot noir, as well as a complex chardonnay and an array of other white varietals. The laid-back, college-town vibe lacks the pretense and hubbub that comes with other California food and wine destinations, like Napa or Sonoma. August also marks the beginning of the harvest season for SLO wineries (though changing weather has had an impact on the vines over the last few years, resulting in unusually early or late harvest times). Wineries often have extended tasting room hours or host special paired dinners to celebrate the sun setting on summer.
Wine not your thing? August also hosts the Central Coast Cider Festival, tons of live music and concert series for all different genres, the Harmony Wine and Beer Festival and several outdoor markets.
Our San Luis Obispo hotel pick: Quality Suites
7. BUFFALO, N.Y.
You may picture nothing but snow when thinking of Buffalo, but this northern New York city bustles in the warmer months. The city has gone through an urban transformation over the last few years, and is emerging as a top warm-weather destination packed with adventure, history, and culture. Hit up the free Shakespeare in Delaware Park, check out the new Explore & More Children's Museum (opened in June 2019) and the finishing touches on the Frank Lloyd Wright Darwin Martin House (an absolute stunner for design fans), and catch an innovative theater performance from the Torn Space Theater.
Down by the waterfront, work up a sweat on the ropes course, paddleboard or kayak around the Niagara River, zip across four silo-stretched zip lines, or float down the river on your own personal tiki boat and take in the view. Love hot wings? Come at the tail end of August and chow down at the National Buffalo Wing Festival.
Our Buffalo hotel pick: Hyatt Regency Buffalo
8. Branson, Mo.
Come August, everything is in full swing in Branson, Missouri. The local lakes are popping, attractions have extended hours, and the award-winning Silver Dollar City theme park hosts "Midnight Madness," in which the park stays open late a few nights at the beginning of August. While temperatures can creep into the high 80s, visitor numbers aren't as high as they are in July. As many coastal dwellers head toward the beach in hot weather, folks in the Midwest beeline for the lakes — and Branson is situated near Table Rock Lake, Bull Shoals Lake, and Lake Taneycomo.
With so many shows, attractions, and entertainment options, it's easy to see why some folks call Branson the Vegas of the Midwest (though we feel like the family-friendly element makes "Orlando of the Midwest" a little more accurate).
Our Branson hotel pick: Still Waters Resort